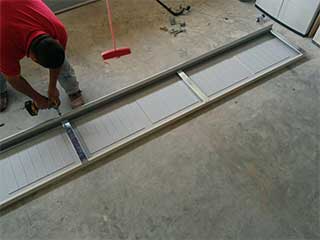 Make an Amazing First Impression!
You may not think about it, but your garage door is a large part of what people see when they look at the front of your house. That may be a scary thought if it's become rather shabby over time, but it doesn't have to be. If you want to impress anyone who drops by, including potential buyers if you're looking to sell, one of the best ways to do so is to get a new door installed. There are a wide variety of styles to fit any taste or home, and our experienced technicians are ready to come out and get to work at a time that's most convenient to you. Don't let a haggard door be what scares off that next sale or visitors alike, instead treat your house to something that will awe them. It'll make all the difference.
Unreliable Opener?
Having a garage door opener that works effectively and dependably is a must. Nobody wants to be stuck in or out of the garage when they're trying to get through that busy schedule or home after a long day. It may only be a minute or two of struggling, but those minutes add up fast over time. Even worse, it could get bad enough that you wind up having to open the door manually. They are heavy pieces of machinery, and nobody wants a strained back all because of a faulty opener. If yours is acting up, contact us and allow us to switch it out for one that works the first time, rather than the fifth. Whatever style suits your needs, be it Genie, LiftMaster, or otherwise, we likely have it ready to be installed and ease that day-to-day annoyance.
Revive Your Home With A New Garage Door!
Be it for yourself, or the following family to purchase your house so that you may move on to the next step of your adventure, it's time to make that garage door look like new again. You won't believe how much it perks up the rest of you home, with just that one simple installation. Local here in League​ City, we can be out in no time to get a fresh, unblemished door put in whenever is best for you. Call today! You won't regret it.