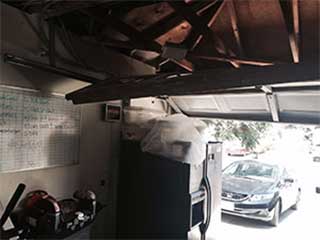 While garage doors add a range of benefits when it comes to the security of your home, they can be damaged themselves from time to time. This could be the result of a minor accident, the onset of galvanic corrosion on automated systems, rust or simply wear and tear. Whatever the cause for damage to your door, our team of professionally trained and highly experienced garage door repair technicians are here to assist you. Here is a little more about the services that we offer.
Replacing Springs and Safety Cables
If you need to replace your springs or garage door cables, it can make it difficult to operate your door. Besides being an inconvenience, damage to these components can also render your door unsafe to use. This is because springs see to the correct support of its structure, while safety cables act as a much-needed backup should the springs fail without warning. If yours have been showing signs of trouble, give us a call to have them restored or replaced.
Openers and Receivers
Components associated with automatic garage doors such as openers and receivers are prone to damage from long-term use, or even galvanic corrosion, which occurs when electrified metals come into contact with one another. Lightning, surges and worn-down parts could also undermine its condition. Give us a call if you are in need of repairs for your garage door opener or any of its associated parts.
Getting your Door on Track
If your garage door has come off the track, our team of technicians would be happy to assist you with reattaching it, or even replacing the tracks should the need occur. In some cases, this could point to a need for maintenance or the replacement of a component. Whatever the reason, we will work to ensure that it doesn't happen again.
Contact us for More about Garage Door Repairs
For further details on how our technicians can assist you with all manner of garage door repairs, contact a consultant from Garage Door Repair League City today.
We also offer the following services:
Garage Door Tune Up Services
Genie & Liftmaster Opener Services
Broken Garage Door Spring Replacement
Emergency Garage Door Repairs